Carey Schmidt, President
A Montana native, Carey Schmidt has over a decade of experience litigating complex and contentious civil matters.  Carey has litigated countless insurance coverage, personal injury, construction, employment, real estate, environment regulatory, foreclosure, and discrimination matters in Federal and State Courts and before administrative boards of the State.
Carey has experience on both sides of the "vs." representing Plaintiffs as well as Defendants.  Carey has acted as a successful mediator.  In addition to litigating, Carey helps his clients avoid litigation by drafting contracts and thoughtfully orchestrating transactions.  Some lawyers get in the way of business.  Carey is a catalyst for getting deals done.
Carey was a shareholder in a large insurance defense firm before moving to this client-focused practice and has tried many cases to verdict, including prosecuting criminal cases for Missoula County.  He was the publication editor for the Public Land and Resources Law Review and earned his Juris Doctorate in 2005 from the University of Montana School of Law.  He earned his Bachelor of Science from Willamette University in Salem, Oregon in environmental science, with minors in religion and geography.  He has experience in environmental consulting and technical science.
Carey serves as the President for the Western Montana Bar Association. His memberships include the State Bar of Montana, the American Bar Association, and the Defense Research Institute. Mr. Schmidt is admitted to practice in all State and Federal courts in Montana.
Mr. Schmidt is a Director for the Westslope Chapter of Trout Unlimited and is a past president.  He is an avid outdoorsman and enjoys spending time with his lovely wife and two beautiful children.
Contact Carey at:
Schmidt Berkoff Law Firm, PLLC
1917 South Higgins Avenue
Missoula, MT 59801
(406) 552-1450
president@westernmtbar.com
carey@blackfootlaw.com
---
Katy Stack, Vice President
Katy Stack grew up in Missoula, Montana and graduated from the University of Montana School of Law in 2010.  Upon graduation, Katy served as a judicial law clerk for two federal judges: United States Magistrate Judge Keith Strong in Great Falls from 2010-2012 and Chief United States District Judge Dana L. Christensen in Missoula from 2012-2014.  Katy also earned valuable trial experience interning at the Missoula County Attorney's Office from 2009-2010.  After representing clients in private practice, Katy joined Montana's Alexander Blewett III Law School as the Director of Career Development in 2020. Away from the office, Katy enjoys spending time with her family and playing and coaching volleyball.
Contact Katy at:
Alexander Blewett III Law School
406-243-2698
katy.stack@mso.umt.edu
---
Travis Dye, Secretary
Travis Dye grew up in Missoula with a few years spent in Helena. He attended Seattle University and the University of Montana, from which he received a BA in Political Science and Sociology (emphasis in Criminology) and his law degree. During law school, Travis was a staff member and co-editor-in-chief of the Montana Law Review and interned at the Missoula County Attorney's Office. After law school, he clerked for the Honorable Donald W. Molloy, then-Chief Judge of the United States District Court for the District of Montana, and then spent nearly 20 years practicing various forms of insurance defense work. Recognizing a need for transparent and affordable legal services, Travis and his law partner, Helia Jazayeri, started Missoula Legal Solutions in July 2021 where they provide a variety of legal services and try to solve problems rather than create them. Outside the law, Travis enjoys biking, hiking, soccer, skiing, and many other activities.
Contact Travis at:
Missoula Legal Solutions, PLLC
127 North Higgins Ste. 302
PO Box 7667
Missoula, MT 59807
(406) 540-1626
---
Rachel Parkin, Treasurer
Rachel is a 2013 graduate of the University of Montana Law School and a shareholder with Milodragovich Dale and Steinbrenner, PC. Her practice focuses on insurance defence and coverage analysis. In a previous life, Rachel taught classes on children's literature and worked as an education ambassador at a zoo.
Contact Rachel at:
MDS, PC
406-728-1455
rachel@bigskylawyers.com
---
Adam Shaw, Director
Originally from Prescott, Arizona, Adam received his Bachelor's Degree from Arizona State University in 2006. He earned his Juris Doctorate from the University of Montana School of Law in May, 2010. Adam practiced in Dillon, Montana for four years before joining Brown Law Firm in 2014. While practicing in Dillon, Adam handled a variety of matters including complex civil defense litigation, insurance coverage disputes, real estate transactions, criminal law, and family law matters. He also served as President of the Fifth Judicial District Bar Association and served on the board for the Fifth Judicial District CASA (Court Appointed Special Advocates). His practice focuses on civil defense litigation. Adam is admitted to practice law in both State and Federal Courts in Montana.
Contact Adam at:
Brown Law Firm, PC
269 West Front Street, Suite A
Missoula, MT 59802
(406) 830-3248
ashaw@brownfirm.com
---
Meri Althauser,  Director

Meri is a Missoula native and operates the solo practice Forward Legal, PLLC providing family law and mediation services.  Before opening Forward Legal, Meri was a partner with Montana Legal Justice, a public interest law firm operating on a sliding scale fee structure, and an associate with Phillips Haffey, PC, working on a variety of insurance and civil defense issues.  Meri has a background in social work and child advocacy, and graduated with honors from the University of Montana School of Law in 2011.  She is admitted to practice in all Montana State and Federal courts, is a former chair of the Western Montana Pro Bono Committee.  She lives with her husband, two children, and therapy dog Trapper (who is a terrible legal assistant) in Missoula.
Contact Meri at:
Forward Legal, PLLC
415 North Higgins, Suite 1
Missoula, MT 59802
(406) 325-7100
meri@forwardlegal406.com
---
John Newman, Director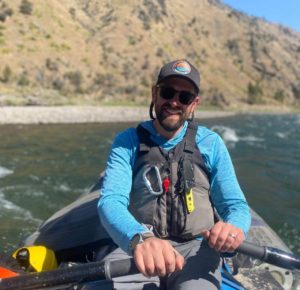 Born and raised in New Jersey, John received a bachelor's degree in chemistry from Middlebury College in 2002, a master's degree in geography from the University of Montana in 2009, and a law degree, also from the University of Montana, in 2014.  He was an editor of the Public Lands & Resources Law Review and member of the trial team while in law school.  From 2014 to 2016, John served as a law clerk to the Hon. Dana L. Christensen, U.S. District Court for the District of Montana.  From 2016 to 2019, John was an associate with Boone Karlberg, P.C. in Missoula.  John now serves as an Assistant U.S. Attorney for the District of Montana, where he defends the United States and its agencies in civil proceedings.  Before becoming a lawyer, John mapped fiber optic networks in New York City, was a risk management consultant for a property insurer in the northeast, and was a land use planner for the City of Missoula and Missoula County.  He and his wife, Jaymi, spend their free time on the mountains and rivers of Montana and Idaho with their four kids.
Contact John at:
johnmnewman@gmail.com
---
Randy Tanner, Immediate Past President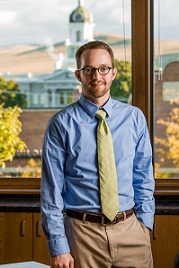 ---
Randy is an Assistant United States Attorney for the District of Montana. His practice is largely civil defense work, including public land management, employment discrimination, Federal Torts Claims Act, and constitutional tort cases, as well as federal appeals. Before joining the United States Attorney's Office, Randy was a shareholder at Boone Karlberg P.C. in Missoula.
Contact Randy at:
USDOJ, Missoula office
randy.tanner@usdoj.gov or
---
Natalie Hammond, Director
Natalie is a sixth generation Montanan, born and raised in Missoula. She attended the University of Montana, graduating in 1999. In 2001 Natalie moved to Boston, Massachusetts where she worked as an assistant fashion buyer for a large chain of department stores. While in Boston Natalie became a diehard Redsox and Patriots fan. Natalie returned to Missoula in 2004 and worked as a paralegal for over ten years at two different firms specializing in insurance defense, including coverage litigation and bad faith defense. In Fall of 2017 Natalie began attending the University of Montana School of Law, graduating with honors in May 2020.
Natalie is Missoula an attorney with Cotner Ryan Law Firm in Missoula, MT, with a diverse practice that includes family law, employment law, and general civil litigation.  In addition to serving on the WMBA Board,  Natalie is a board member of the WestSlope Chapter of Trout Unlimited and Fit to fight. On fall weekends Natalie can be found attending Griz games and cheering on the New England Patriots and Redsox.